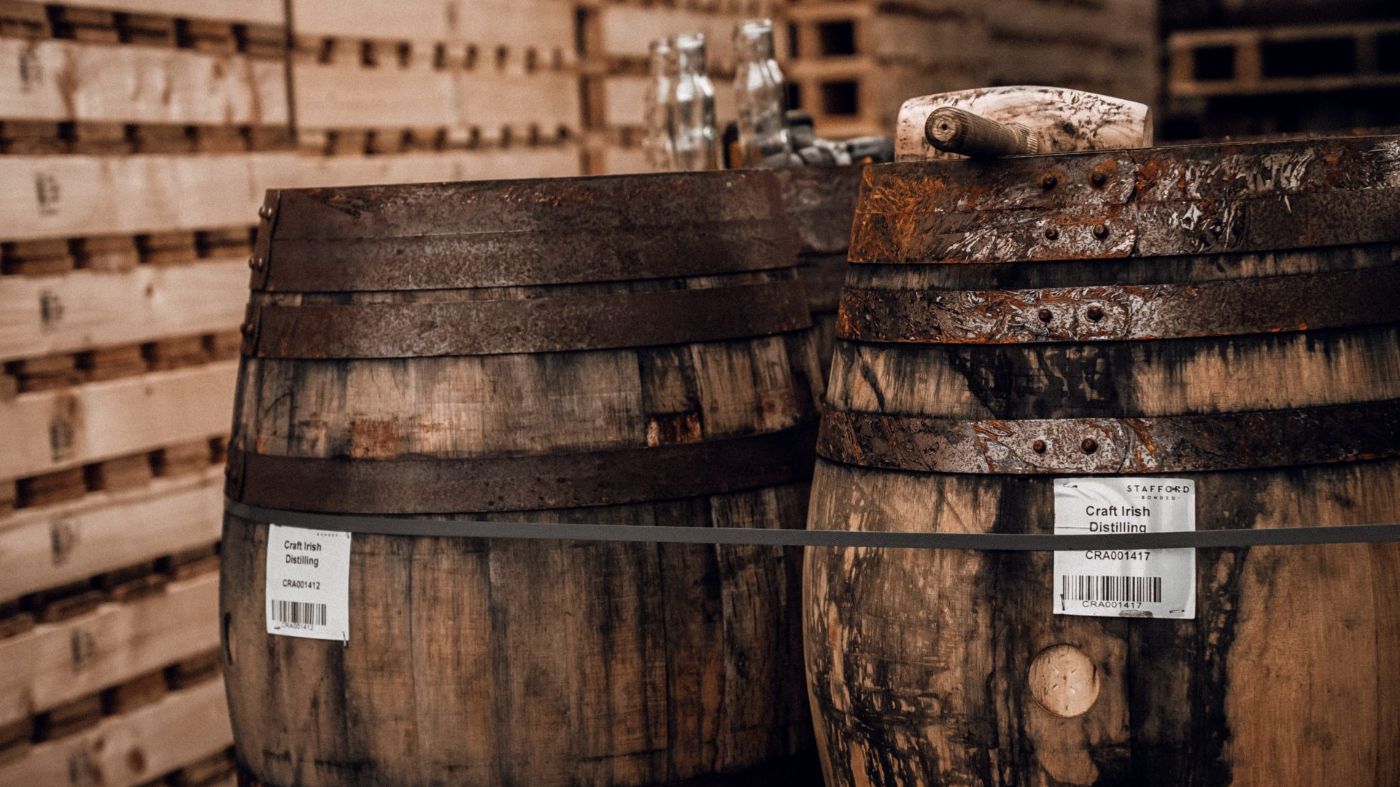 How many bottles come from a barrel of whiskey? What you Need to Know about Whiskey Barrel Investment
If you've ever wondered just how many bottles of whiskey come from one barrel, read on. We've taken a look at the sizes of barrels, how the evaporation of the Angels' Share can affect the eventual number of bottles, and what to look for if you want to bottle your cask of whiskey.
So you've bought your barrel of whiskey and now you want to know just how much liquid is going to come out of the cask when it's time for bottling. As with so much in life, the answer is a little more complicated than you might expect. But don't worry, just read on and we'll provide you with all the answers you need.
You've designed the labels, come up with a clever name, now all that's left is to find the perfect cask. You've landed upon a barrel of high quality whiskey that's befitting of one day being bottled under your own marque. But before you order bottles and get the printing press going, you may be wondering – how many bottles come from a barrel of whiskey? It's a more complicated question to answer than you might imagine. Whether you're an aspiring purveyor of craft spirits looking to buy a barrel of whiskey, want to fill your own cellar with a unique collection of whiskey, or simply curious, we've got you covered. Read on for our full guide to how many bottles can be retrieved from a single cask of whiskey.
How many bottles of whiskey in a barrel?
The number of bottles a cask of whiskey can contain depends on a few factors. First, what's the volume of the cask? While the majority of Irish whiskey is matured in former American Bourbon barrels, it may be finished in a variety of different casks, and each of these has a slightly different volume.
The most commonly used barrels have the following volumes:
    Drum – 600-650 litres

    Port Pipe – 550-650 litres

    Machine Puncheon – 500 litres

    Butt – 475-500 litres

    Puncheon – 450-500 litres

    Barrique – 250-300 litres

    Hogshead – 225-250 litres

   

American Standard Barrel

– 190-200 litres
Then you have to account for the size of the glass bottles you're pouring into. In the UK and Ireland these tend to be 70cl. In this case, the American Standard Barrel would yield around 286 bottles of whiskey.
How maturation affects the amount of whiskey in a barrel
Of course, this presumes that the cask is entirely full at the time of bottling, which is very unlikely. Scotch whisky and Irish whiskey must be aged for a minimum of three years before they can legally be called whisk(e)y and by this time, it's likely that a small amount of the original volume will have evaporated. Distillers refer to this loss as the 'Angels' Share': an offering to the heavens that ensures the whiskey will be exceptional once it matures.  
And that's more or less how it happens. When the liquids evaporate, the wood of the casks absorbs some of it, only to release a small portion back, imparting the remaining spirit with some of its oaky flavour. Allowed to mature for a number of years, the resulting whiskey will have developed into a smooth spirit that's largely taken on the flavour of its cask – and significantly reduced from its initial volume.
So while a full American Standard Barrel of new whiskey may contain hundreds of bottles, a larger Port Pipe being used to finish a nearly mature whiskey may actually hold far fewer bottles. How many bottles of whiskey are in a cask depends on the way the whiskey is being made, where it's ageing, and what stage of maturation it's reached. 
This is what makes it so difficult to predict exactly how much liquid will be left in the case once you decide to bottle it. There are so many variables that affect the rate of evaporation–including temperature, humidity and even air pressure! 
In places that are hot and dry, alcohol by volume (ABV) will go up as the whiskey sits in the barrel. But in cooler, damper climates such as Ireland and Scotland the ABV will actually drop as it ages. Things can get tricky here, too: if the ABV dips below the 40% mark it actually ceases to be whiskey by definition. Imagine spending decades patiently waiting on your whiskey only to find out that when you're ready to bottle it doesn't even qualify for the category anymore! The good news is that in cooler climates you also lose less to the angels each year; typically only 2-3% in volume. Compare that to places like Kentucky and the Caribbean, where as much as 8%-10% can be lost per year.
When you trust your ageing to experts who know how to carefully monitor the process, you can rest assured that your investment is going to mature in the best way. That means a development of flavours from the barrel and achieving the balance and wisdom that comes along with that maturity. Although interaction with wood is a delicate and sometimes unpredictable process, you promote consistency and mitigate any adverse effects by sourcing good barrels, keeping them in time-tested warehouses and keeping a watchful eye–and tongue–on how they progress, year in and year out.  
Invest in cask whiskey with the Whiskey & Wealth Club
Generally speaking, the longer a whiskey can be allowed to mature, the higher a price it may command in the future. If you're looking for an asset-backed investment that you can hold for a fairly long term, cask whiskey can be a great option. The whiskey market is relatively stable, and a high-quality, branded cask (like that offered by Whiskey & Wealth Club) is likely to see positive returns at the end of your investment term.
And whiskey cask investment isn't just for those looking for opportunities to diversify their portfolios. If you're interested in creating your own small batch craft spirits, investing in high quality whiskey is a great way to get started. With the Whiskey & Wealth Club, you'll be able to select from a number of casks hailing from renowned whiskey distillers, and use their new make spirit as the eventual base for your own. When you buy a cask of whiskey, it's not just an investment in the distiller or the whiskey, but your future in whiskey as well.
Why Choose Whiskey & Wealth Club
Whether you're looking into alternative investment opportunities or planning your future as a purveyor of craft spirits, Whiskey & Wealth Club is here to talk you through the process and answer any questions you may have. We can talk you through every aspect of how to invest in whiskey barrels so you're armed with everything you need to make an informed decision. We've cultivated relationships with whiskey distillers we admire, and each cask we offer comes with the provenance of having been produced for a well-known, high-end brand to ensure the high quality whiskey that we love to drink.
When you move into Irish whiskey or Scotch whisky investment, you take full ownership of your casks, and we take full care of the storage, insurance, and any other particulars. Regardless of how many bottles are in your cask at the end of your investment term, our Account Managers will be there to help you devise an exit strategy that makes the most of them. Interested in learning more? Have a look at some of the positive Whiskey & Wealth Club reviews we've received so far, or get in touch with us directly.
Back to news