The wholesale purchase and holding of cask whiskey for financial gain is a developing market. One to date that has been largely unexplored in the public eye. As an industry leader, Whiskey & Wealth Club are keen to understand its drivers and motivations – and to share this insight with wider audiences. In the 2020 Cask Whiskey Buyer Report, we seek to understand the attitudes to buying and holding casks for financial gain, creating a picture of and for potential buyers.  
Opening up the cask whiskey market 
Investing in cask whiskey has been around for centuries, but only to a select few. Allowing private individuals to buy and hold casks for financial gain is a novel concept — disrupting centuries of tradition in both the Irish whiskey and Scottish whisky industries. Disruption here, however, is a force for good. A wind of change that brings benefits, both to long-established distilleries as they work to meet surging demand for their premium whiskeys, and innovative start-ups that refresh and renew our love affair with this most extraordinary spirit.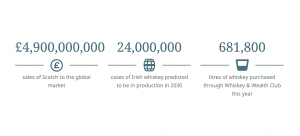 A new thirst for whiskey 
A growing global passion for premium whiskey means that it is not only the distilleries that are innovating. At Whiskey & Wealth Club, we have identified new opportunities to bring the joy of whiskey ownership together with attractive returns. The concept is a relatively simple one, but realising it has thrown up many challenges. Not least, the need to secure compliance with government revenue agencies, as well as establish trust with distilleries, Irish whiskey or Scotch lovers and potential buyers.  
I'm delighted to say that we have prevailed — securing some of the finest distilleries as partners and constantly breaking our own records in terms of sales. In Q1 2019 we sold over 330 casks of prime Scottish and Irish spirit, and this leapt to over 1,100 casks in Q1 2020 equivalent to almost 230,000 litres. Fast forward to September 2020, investors purchased a record total of 667 casks of new-make premium spirit through Whiskey & Wealth Club.  
Investor attitudes 
The 2020 Cask Whiskey Buyer Report uncovers a number of interesting insights on attitudes to buying and holding casks for financial gain. Interestingly, results show us as much about those who are yet to buy-into the concept as those who have.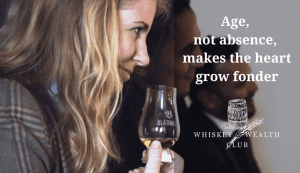 One of the most fascinating findings uncovered in the report is around age and the very different attitudes exhibited by different age groups. The results very clearly show us the cask whiskey buying 'sweet spot' — and it's something Whiskey & Wealth Club will be looking at closely as we move forward and grow.    
We hope that you are as excited by these findings as we are and, if nothing else, you better understand the cask whiskey market. To read more, see the full report here.  
Back to news