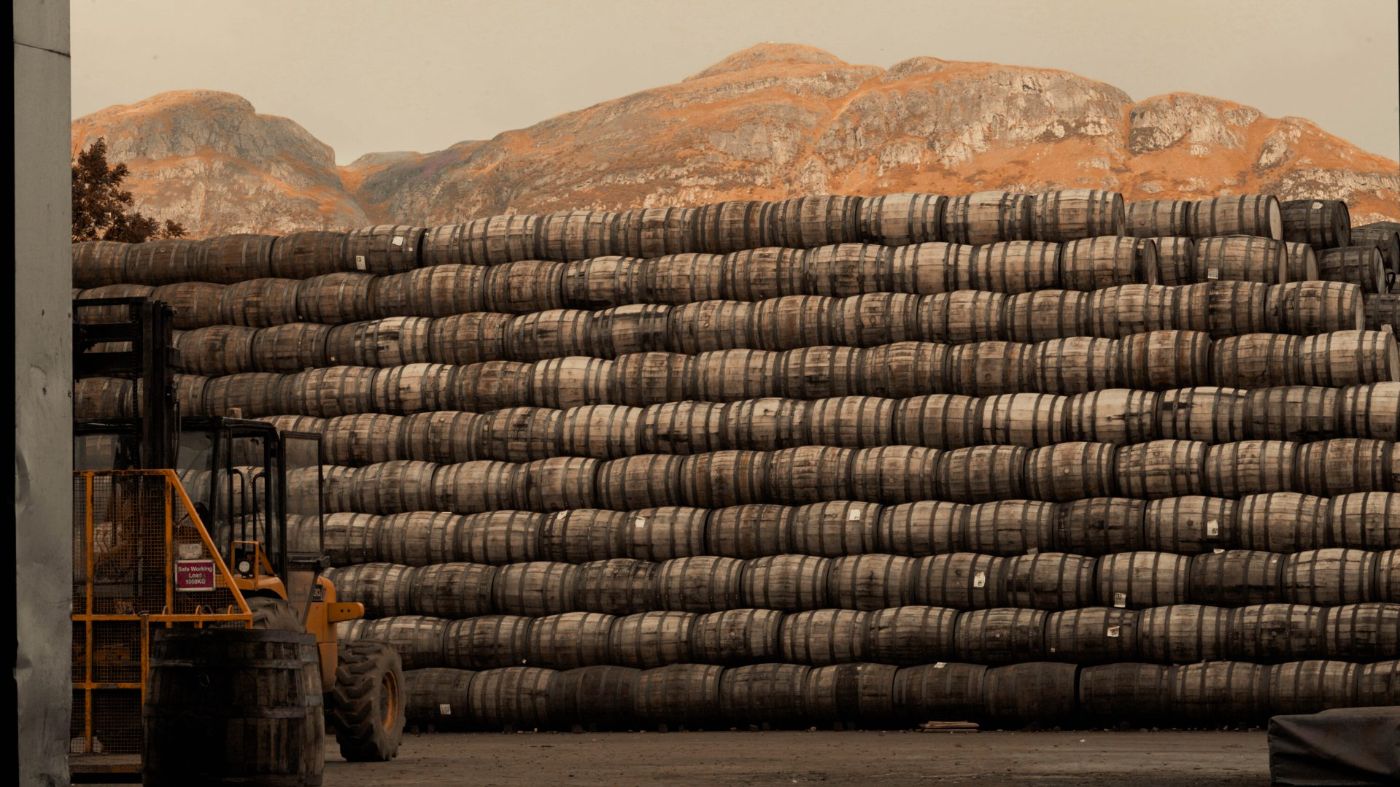 The Best Irish Whiskey In Australia And How It Compares to the World's Top Investment Whiskies
With cask whiskey investment undergoing a worldwide revival, we've launched our new Australian hub. Our aim? To bring the benefits of investing in Scotch and Irish whiskey to Australia. 
Whiskey Investment Expands from the UK to Australia
You only need to glance at the statistics to appreciate why at Whiskey & Wealth Club, we've just launched a new headquarters in Sydney, focusing on whiskey investment in Australia— and fine-tuning the best Irish whiskies available in Oz. 
In short, Irish whiskey is booming. It's our aim therefore to aid our clients in amplifying their yields from cask capitalisation in investment whiskies.
Our Sydney hub, then, is the next essential step on our mission to bring Irish whiskey investment – and top Irish whiskey – to that segment of the planet. We're now bolstering our alliances with still more distilleries producing arguably the best whiskey across Australia.
Equally, these distilleries from top whiskey brands are thrilled by the prospect of Whiskey & Wealth Club helping to fund their growth in exchange for cost-effective cask acquisitions for our clients. We take pride in our profound understanding about the cask market and the best investment whiskeys – we understand the concepts behind whiskey as an investment – and seek to support your ambitions by identifying the most suitable opportunities to invest in.
Whiskey as an investment 
Undeniably, the latest statistics surrounding the Irish whiskey business and expensive Irish whiskeys are remarkable, with Irish whiskey having its greatest renaissance ever. A decade ago, merely four distilleries in Ireland produced Irish whiskey. Currently, there are more than 40 distilleries either operative or in the growth phase. This explains why The Irish Times has described Irish whiskey as "the world's fastest-growing spirits category in over a decade."
Sales of Irish whiskey and expensive Irish whiskey brands meanwhile are currently expected to grow by 33% in the next 12 months, with — as Bloomberg U.K. stresses — "Irish whiskey-makers struggling to meet a surge in global demand." 
Equally, as the Financial Times reports, the value of rare Scotch whisky has shot up by a staggering 23% this year due to strong investor demand. These gains are at complete odds with the FTSE-100, which has "traded flat" over the past 12 months. Scotch whisky now comprises 22% of all of the UK's food and drink exports – and nearly 1 in every 50 exports from Britain, with a surge in demand coming on strong from Africa and Asia. In August 2022, in fact, one cask of rare whisky was sold to an Asian investor for a record-breaking £16 million. As a result of this huge fascination with Scotch, there are now more Scotch distilleries in Scotland than there have been in nearly 80 years, since the end of World War Two.
These impressive statistics are more than matched by those gains in the world of Irish whiskey, which today is retailed in 140 countries globally, triggering a 38% upswing in exports inside a six-month period alone.
"The Irish whiskey industry continues to go from strength to strength," reports Forbes, "and if sales continue their rapid growth, Irish whiskey sales will surpass Scotch whisky sales in the US sometime this decade."
The finest whiskies in the world
Part of this flourishing clearly comes down to the superiority of the Irish whiskey currently on offer to purchase. 40% of whiskey drinkers, for example, admit that when they fall in love with a specific Irish whiskey distillery, they subsequently stay faithful to that beloved whiskey brand for ten years as a minimum.
The palate for Irish whiskey, moreover, will continue to mature over the impending months. As the Belfast Telegraph recently notes: "One key finding from the recent International Trade Report was that a record 14 million cases of Irish whiskey were sold around the world in 2021, a year-on-year increase of 21%."
William Lavelle, director of the Irish Whiskey Association, now anticipates similarly great things for the industry. "This year looks set to be another outstanding year for export growth," he says.
According to the Distilled Spirits Council, furthermore, 14 million cases of Irish whiskey were retailed in the preceding 12 months, producing $1.3 billion in turnover for the trade. One significant trigger behind such extraordinary growth is the aspiration from buyers to drink 'super-premium' sprits, the flag under which Irish whiskey sits.
"This increasing choice and supply of premium and high-end Irish whiskeys has been instrumental in driving recent growth particularly in America," continues Lavelle. "According to the Distilled Spirits Council of the United States, one in six bottles of Irish whiskey sold in the US market last year was sold at the high-end premium price point."
So, anticipate additional "robust" growth in the Irish whiskey business, Lavelle adds, talking to The Irish Independent. He remains convinced that Irish whiskey's solid sales also won't be too unduly affected by actions in Ukraine, notwithstanding Russia and Ukraine encompassing 7% of the world-wide market.
Top Irish whiskey continues to thrive 
Lavelle's encouraging viewpoint makes sense. The Covid epidemic barely dented trade, with 96% of Irish whiskey manufactured throughout that period having been nevertheless shipped. The number of female whiskey drinkers living outside the U.K., moreover, has doubled from 15% to 30% in the past decade, further enhancing the demand for Irish whiskey. And with the Irish Whiskey Association reporting triple-digit-growth in Australia, it's an impeccable time for Whiskey & Wealth Club to extend our model Down Under.
And it's not just sales that are thriving. When it comes to collecting whiskey as an investment, Irish whiskey is also taking centre stage on the rare whiskey investment market, specifically in rare bottles. 
Rare whiskey investments 
For example, we're thrilled to have lately launched – via our associate business The Craft Irish Whiskey Co. – 'The Devil's Keep,' the highest-priced initial release in the history of whiskey.
This triple-distilled, 29-year-old single-malt whiskey for investment is yet another victory in our never-ending quest to place Irish whiskey back on the Premium Spirits throne. Says Whiskey & Wealth Club co-founder Jay Bradley: "There has always been a gap in the market for ultra-luxury whiskeys." The Devil's Keep, the embodiment of opulent Irish whiskey, and in our mind the best whiskey to buy as an investment, is filling that space. Given that The Craft Irish Whiskey Co. only created 333 bottles of this whiskey, its extraordinary rarity means that it could one day potentially contend for the distinction of being 'the most expensive whiskey in Australia.'
The Devil's Keep meanwhile instantly takes its place in the uppermost echelons of luxurious Irish whiskey bottles, beside equivalent world-firsts – including the most exclusive and iconic Scotch whisky ever, 'The Macallan 60-year-old 1926,' which sold at Christies for £2.3m, becoming the most expensive whiskey in the world, and for our new Aussie clients reading, by default therefore, the most expensive Scotch in Australia.
The best whiskies in Australia 
But we refused to take a breather there, incessantly concentrating on how to invent the very best whiskeys for investment. In February of last year, therefore, we established still another world-first when The Craft Irish Whiskey Co. auctioned The Emerald Isle Collection, a case of exceptionally rare 30-year-old spirit for $2m, becoming in our view possibly the best whiskey in the world. 
We also believe, justifiably so, that this may just be the finest whiskey in the world. Contained in this set was a custom-made Faberge Celtic Egg – handmade from emerald and 18-carat gold – together with a Cohiba Siglo VI Grand Reserva cigar. It is this penetration of knowledge, exhilaration, and history-making that Whiskey & Wealth Club is today delivering for our clients at our new Sydney, Australia headquarters, and beyond.
Back to news