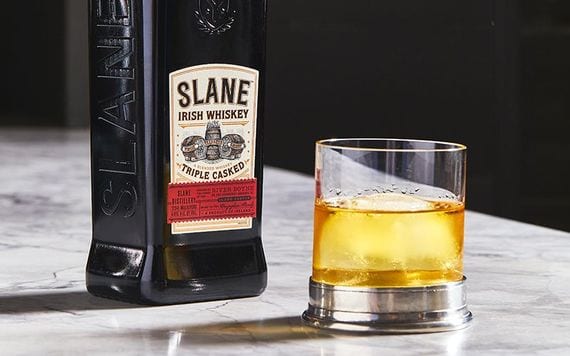 The boom is back for Irish Whiskey
Irish Whiskey has really taken off in the last 10 to 15 years, especially in the U.S.
Whiskey & Wealth Club explores the Irish Whiskey boom and takes a look back on some key moments in the history of the industry which have lead to it becoming so popular today.

The Gaelic name for whiskey is "Uisce beatha." That translates to "water of life," and it's becoming more and more evident that there is still plenty of life in the Irish whiskey industry.
Irish whiskey is booming right now, with new whiskey distilleries popping up all over Ireland.
According to the Distilled Spirits Council, gross revenue for Irish whiskey is up more than 1,000 percent since 2003. The biggest gains have been at the high-end of the category.
It wasn't always this way
The Washington Post reports that Ireland once had more than 1,000 distillers, ranging from tiny farm stills to some of the largest distilleries in the world. However, sometime between the mid-1800s and the 1940s, Irish whiskey took a steep dive, and the number of commercial distillers in the country dropped to only three.
In the early 20th century, prohibition in the U.S. not only closed off a major market, but also damaged the drink's reputation as many bootleggers would falsely sell their terrible, cheap hooch under an "Irish whiskey" label. A trade war between Ireland and the United Kingdom in the 1930s also led to the drink falling out of favor.
However, over the last several decades, Irish whiskey has been making a comeback, and the spirit has really taken off in the last 10 to 15 years, especially in the U.S.
According to the Washington Post, this began in 1966, when the three remaining Irish companies, John Jameson, John Power and Cork, came together to form Irish Distillers, later becoming a subsidiary of Pernod Ricard in 1988. The merger and the later acquisition helped to get Irish whiskey back on track.
Also helping Irish whiskey on its comeback path was John Teeling, who in the late 1980s launched Cooley Distillery, ending Irish Distillers' long-time monopoly. His sons, Stephen and Jack, would go on to launch the Teeling Whiskey Company in 2012. In 2015, they launched the first new distillery in Dublin in 125 years.
The present day – challenges & opportunities
Irish whiskey is currently having a boom. A big one at that. It's now the fastest growing spirit in the world, with sales rising 131% over the past decade. Dotted across Ireland, there were just four working distilleries five years ago while today there are 16 and a further 15 have approved planning permission.
For a spirit that has struggled to find a footing in a market dominated by Scotch and bourbon, this turnaround is big news. And big money. However, for some Irish whiskey connoisseurs, the growth in new distilleries has come too fast.
'For a long time there were only three Irish whiskey distilleries, now there's going to be over 30 in the next few years,' Sean Muldoon, co-owner of The Dead Rabbit, tells Imbibe. 'There are simply not enough proper distillers with Irish whiskey experience.'
Muldoon, who has just launched an Irish whiskey with business partner Jack McGarry and The Dublin Liberties Distillery, has secured Darryl McNally as its distiller. One of the few in Ireland with a wealth of local experience, McNally is an exception to the rule and was previously the master distiller at Old Bushmills Distillery.
The Dead Rabbit Irish Whiskey isn't yet made at The Dublin Liberties Distillery – this has yet to produce a drop of liquid, although production will start later this year. For the moment the famed New York bar owners are staying tight-lipped on where the liquid is coming from before that distillery starts working.
Mind the skill gap
According to whisky expert Dave Broom, the gap in experience isn't just limited to Ireland or Irish whiskey.
'There is a very real skills gap opening up in Scotland and Ireland. There are a lot of distilleries, but in my opinion, not sufficient distillers, or specifically not sufficient distillers with the requisite experience to meet demand. Talent yes, experience less so and that is worrying for greybeards like me and distillers in the industry,' says Broom.
Is experience in an Irish whiskey distillery crucial before you start making your own liquid? And what excludes distillers from America and Scotland slotting into the style?
'You have to start from the position of whether there is a specifically Irish style of whiskey,' Broom says. 'Cooley, for example, did a double-distilled, occasionally peated, single malt made in pretty much the same way as in Scotland (their first distiller was Scottish). [But] when it comes to single pot still it's different. This is an Irish speciality and a defined style.'
It's true, says Broom, there isn't a wealth of experience in making Irish single-pot-still whiskey. However, he claims, people can learn, referencing William Grant's single pot still made at Tullamore for which the trials took place at Ailsa Bay in Scotland.
'There are consultants going about with experience. There are distilleries in Scotland making single pot still. There are new distilleries in Ireland very sensibly asking "what is Irish whiskey?" and coming up with novel answers to that question, as they should,' he says.
'The last thing we need is a lot of Middleton clones. I would say that a trained, experienced distiller would be able to get his or her head around the quirks of Irish-whiskey making relatively quickly and be able to move the tradition forward.'
From Islay to Waterford
Someone who is transitioning across from Scotch to Irish whiskey and rethinking what makes Irish whiskey Irish is Mark Reynier – the man who revived Bruichladdich and has now launched Waterford Distillery on the banks of the river Suir on Ireland's south-eastern coast. He's not interested in making traditional Irish pot still however, but wants to create single malts.
'What is it that makes it of a place? I have always felt very strongly about this, and believe something such as Scotch whisky or Islay whisky ought to be from that place,' he says. 'At Bruichladdich, we endeavoured to grow as much of our barley on Islay as we could. We employed Islay people, we matured it there and distilled it there.
'In Ireland we're doing the same thing – only using Irish barley, it's all distilled in Waterford, by Waterford people with Waterford water, and I can't think what else we can do that's more of Ireland.'
Throughout his career Reynier has championed the idea of terrior in single malt whiskey and provenance with total traceability. Any spirit with his name on it is clear about where it was made, by whom and when.
'Distilling is distilling and it doesn't need any particular sort of nationality to go with it,' he adds. 'In fact, most American whiskey is a mixed mash, just as Irish pot still is.
'In the industry we act like distillation is such a mystery, how extraordinarily complicated, special and magical it all is – but it's not, it's a mechanical process. Titles like master distiller is mostly to do with marketing, they don't have much relevance to hands on distilling.'
Ultimately Reynier would like to see a more rigorous body in Irish whiskey to tighten the rules about what is permissible to put on the bottle.
'Where – you may rightly ask – are any official marketing regulations that protect consumers? They do not exist. Scotch whisky producers may access simple, robust guidelines through the Scotch Whisky Association. No such guidelines can be found in Ireland,' he wrote on Waterford's website.
Muldoon's adopted country of America is now the biggest importer of Irish whiskey, driving most of the growth, although he says it was rare to find it listed in any New York bars before they opened the award-winning Dead Rabbit Grocery and Grog five years ago. Since then, the duo have been championing the spirit, from the introductory blends to the punchier and rarer single-pot-still bottlings.
'I think it all starts with one drink, if we get the Irish Coffee done properly around the world then Irish whiskey will be championed,' says Muldoon. 'Now that there is definite interest in that one drink, with people requesting it in other bars, bartenders are starting to mess around more with Irish whiskey.'
Today's boom isn't focused on the iconic blends, although, as Muldoon says, brands like Jameson have done a lot for the category, despite portraying a sweeter style of Irish whiskey. Instead the largest growth is at the premium end. In February, the Irish Times reported that brands typically costing under $200 shot up by 8.2%, while super-premium brands such as Redbreast, which cost more than $200, jumped by 46.5%.
Irish whiskey is set to continue its boom regardless of whether there's enough experienced distillers from Irish distilleries, or not. However, as both Reynier and Broom attest, this doesn't mean it's all doom and gloom, so long as the experience comes from a distillation background, if not specifically Irish.
But before there's even more brands and expressions, Reynier's argument for a body that checks what information is being disseminated by brands makes a lot of sense. Or as he puts it, 'if you don't sort out ground rules at the beginning, it's a hell of a lot harder to do so down the line.'
Back to news