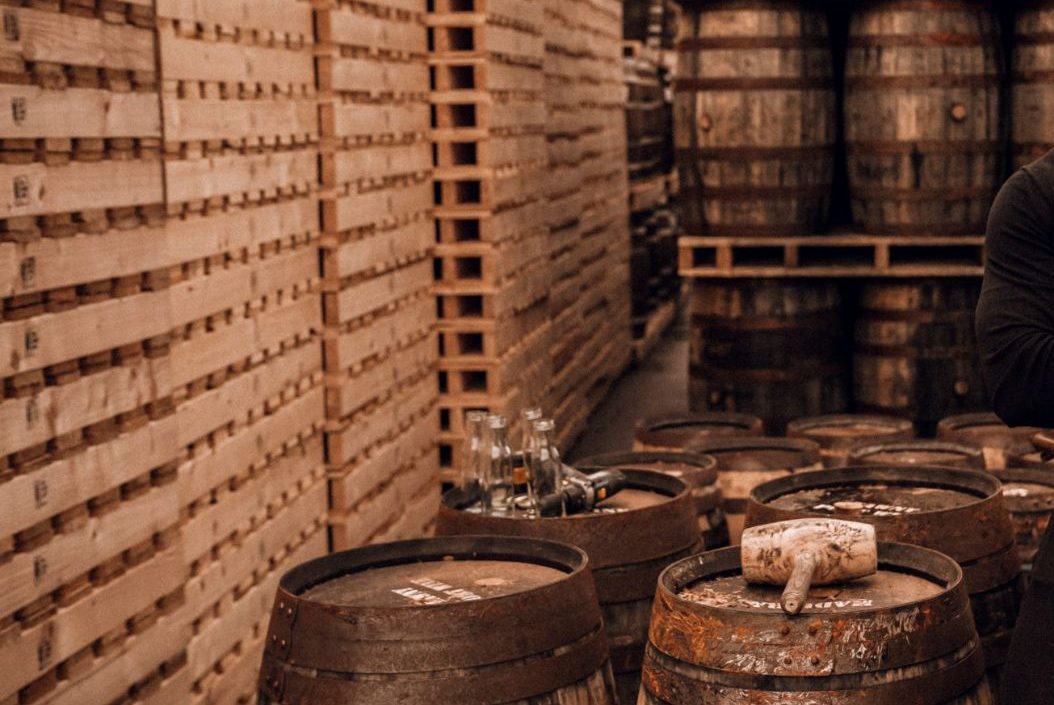 Jay Bradley Whiskey Aficionado – Meet the Man Behind the Best Irish Whiskey Company in the World
From humble beginnings, Whiskey & Wealth Club has revolutionised an industry, creating a groundbreaking model that allows private clients to capitalise on the world of cask whiskey ownership. Discover how it all started and how it works in this behind-the-scenes look at the company and its founder.
Irish whiskey has seen a meteoric rise over the past decade. Today it is among the fastest growing categories of spirit on the planet. And it's showing no signs of slowing down. While you might already be quite familiar with the famous Irish whiskey distilleries on shelf, it's actually the smaller, craft operations that are driving the lion's share of this growth. For instance, at the turn of the 21st Century there were really only two massive players in the game and now there are 32 different distilleries scattered across the Emerald Isle. That number will probably be even larger by the time you read this!
But we're not here to talk about just any craft Irish whiskey. We're here to talk about The Craft Irish Whiskey Co. Because more than any other brand, that's the one changing the game and reestablishing Irish whiskey's supremacy atop the global whiskey hierarchy.
You see, there was once a time–over a century ago–when a majority of the whiskey consumed around the world was distilled in Ireland. Most of it, actually, right within the city limits of Dublin. When you asked for whiskey back then, it meant Irish whiskey. A series of unfortunate circumstances in the early 20th Century dimmed the roaring Celtic flame of 'uisce beatha.'
Down on its luck, the few producers that survived the storm did so by banding together and consolidating their efforts into an ever dwindling number of conglomerates. One of the last two was eventually purchased by an international company based outside of the country. Irish whiskey was running the risk of not even being Irish, anymore. But there was always far too much native pride to allow it to perish completely.
A renewed passion for flavour, quality, and craft began to take hold in the earlier '00s. And that movement was one that would favour the way that Irish whiskey had been traditionally made: with the highest grade grains and the most meticulous processes including those slow, uncompromising copper pot stills. Irish whiskey makers had always preferred doing things the right way rather than the fast and cost-efficient way. And that brings us to the modern steward of this unflinching philosophy; a dedicated student of Irish whiskey's proud past and its glorious future: Jay Bradley, co-founder of The Craft Irish Whiskey Co.
Three years ago, he was at rock bottom. A lifetime's work had been lost, and from a six-bedroom house in a beautiful location, he found himself living with his wife and three children in his parents' three-bedroom house in Dublin.
Out of the depths of darkness, he co-founded Whiskey & Wealth Club, inspired by a mission of introducing the rarefied world of wholesale premium cask whiskey ownership–from Scotch and Irish whiskey distilleries–to private clients. He's now the man behind one of the world's most exclusive whiskey companies.
Who is Jay Bradley?
Jay Bradley is one of the co-founders of Whiskey & Wealth Club. With an unrivalled passion for Irish whiskey and keen sense for business opportunities, he's led the charge to revive the category on a global scale and bring cask whiskey to the cutting edge of alternative investments.
An Irishman by birth, Bradley spent his formative years in Florida. His parents had moved the family Stateside to open an Irish bar – the young Bradley spent his days soaking up the local culture and evenings helping his parents. For Jay, this wasn't just another after school chore. He was getting an early glimpse of what it took to run a successful business and the feeling of camaraderie between the patrons and his parents – and he was taking fastidious notes.
Returning to Ireland, it wasn't long before he left school to join his father in the joinery and carpentry trade. Bradley would observe his father as he would go door to-door to pitch work, demonstrating how he could transform a potential client's home and stopping at nothing to make that sale. In later years, Bradley would come to realise the profound effect his father's grit and determination had on his own work ethic.
Bradley was especially influenced by his father's ability to be both a hard worker and a great entertainer; a demanding boss and a devoted family member and friend. His father thoroughly enjoyed any opportunity to bring people together, make a meal, and share a few drinks at the pub. The way he could create those atmospheres and situations would stay with Bradley for many years to come.
Around the same time, Bradley embarked on the career that would take him around the world and eventually back to his native Ireland. Taking orders at his family's bar, he quickly worked his way up to bartender and learned everything he could about the spirits he served. His talent for mixology and knack for business would soon bring him to the Antipodes, where he'd see his first entrepreneurial success managing a bar and grill. With Bradley at the helm, the restaurant established itself as one of the best in New Zealand. The eatery won international acclaim and awards for the barbecue and burger recipes Jay himself had devised.
But Bradley gave it all up when he learned that his father had terminal cancer. He valued spending time with his father and being there for his family far more than any career, and quickly made the decision to leave the restaurant he'd established and move his young family back to Ireland.
Upon his return, father and son caught up on lost time – and made the most of the precious little they had left. By day, they would take drives and visit local whiskey distilleries, and by night, the pair would begin making plans for what would eventually become The Craft Irish Whiskey Co. Bradley's father had long been a devotee of Irish whiskey, often averring that the native spirit was the best whiskey in the world. Bradley had grown up around spirits and spent much of his adult life running bars, but when he paused to consider it, he couldn't think of more than a handful of brands he'd seen representing his home country on the bar programmes of fine dining establishments. Having begun to immerse himself in the world of Irish whiskey, he knew this had to change.
It was around this time that Bradley came across a copy of the 1879 book Truths About Whisky. Published by the major Dublin distillers of the era, it details the rise of Irish whisky (the 'e' had not yet been added to distinguish it from its Scotch counterpart) and of Dublin as the epicentre of its production. The distillers discuss what led to Irish whiskey – and Dublin whiskey in particular – becoming known as the finest in the world, and provide numerous anecdotes about the dubious business practices and potential ill effects of whiskey originating elsewhere.
A Dublin native, Bradley couldn't believe that he hadn't been familiar with the pivotal role his home city had once played in bringing Irish whiskey to global renown. Irish whiskey deserved to be considered the epitome of luxury once again, and Jay was more determined than ever to bring his father's final business idea to life.
As he began crafting luxury Irish whiskey, Bradley discovered that there was a major opportunity for whiskey aficionados to invest directly in the industry. When distilleries produce new spirit, they often have to sell a small number of surplus casks to wholesalers to cover business costs while the new spirit matures. Bradley had seen that casks tended to increase in value with each year they aged, and realised that this could be an incredible opportunity for investors.
Rather than sell to wholesalers, distilleries could offer their casks to private clients. The clients could have the potential to see returns on their investments and enjoy the option of selling their casks back to the distilleries that produced them when exiting their investments; the distillers, in turn, would be able to top up their reserves with their own aged stock.
And so Whiskey & Wealth Club was born. When it came to running the business, it was Jay's father who knew the CEO would have to be Scott Sciberras. COO William Fielding joined shortly thereafter. The three brought together their expertise in spirits and business, and founded one of the first companies to offer cask whiskey investment.
Industry trailblazers, Whiskey & Wealth Club has brought cask whiskey to the forefront of the alternative investment market, held the industry to higher standards of regulation, and grown from just three founders to a full team of experts. And we're just getting started.
What does Whiskey & Wealth Club offer?
Whiskey & Wealth Club offers investors the opportunity to invest in cask whiskey. Once known only to industry insiders and whiskey wholesalers, cask whiskey investment has become one of the premier alternative investments and provides whiskey aficionados a unique way to support the industry.
Whiskey & Wealth Club only works with premium, branded partner distilleries to offer private clients the chance to invest in new make spirit produced by renowned brands. The value of a cask is primarily determined by its age, brand, and rarity, so these small-batch whiskey branded casks could offer a greater potential return than a mass-produced unbranded cask after a ten-year investment term.
How secure is whiskey investment?
An asset-backed investment, cask whiskey has become increasingly alluring to investors looking to diversify or move away from more volatile markets. When you invest in a cask with Whiskey & Wealth Club, you assume full ownership of your cask. We look after storage and insurance, and you're able to choose the exit strategy that suits you and your financial needs best when the time comes.
Of course, an investment in cask whiskey is still an investment. It is difficult to say how secure it is or whether this could change in the future, so we encourage anyone considering it to do their research and decide for themselves whether it's truly the right choice for them. Check out these Whiskey & Wealth Club reviews from investors we are currently working with. When you're ready to learn more and explore your options for cask whiskey investment, get in touch with one of our Account Managers today.
Back to news